Hierarchy of Benefits: Types of Employee Benefits and Perks Ranked by Employees
Since employer sponsored healthcare first began in the 40's, employee benefits have come a long way to reflect evolving employee needs.  In fact, the old adage there's more to a job than just a paycheck has never been more true for today's generation, with the emergence of COVID-19.  A recent review of several benefit surveys* found a huge spike in the number of employers (nearly 50%) who are willing to do more for their employees than what's required by law.  Our marketing department, who conducted the review, found that the most attractive benefit offering provides not only the mandated health benefits, but also includes components that increase the financial and mental health status of employees, and work to address serious challenges they face in this COVID-19 era.
Here's how employees prioritize benefits according to our findings.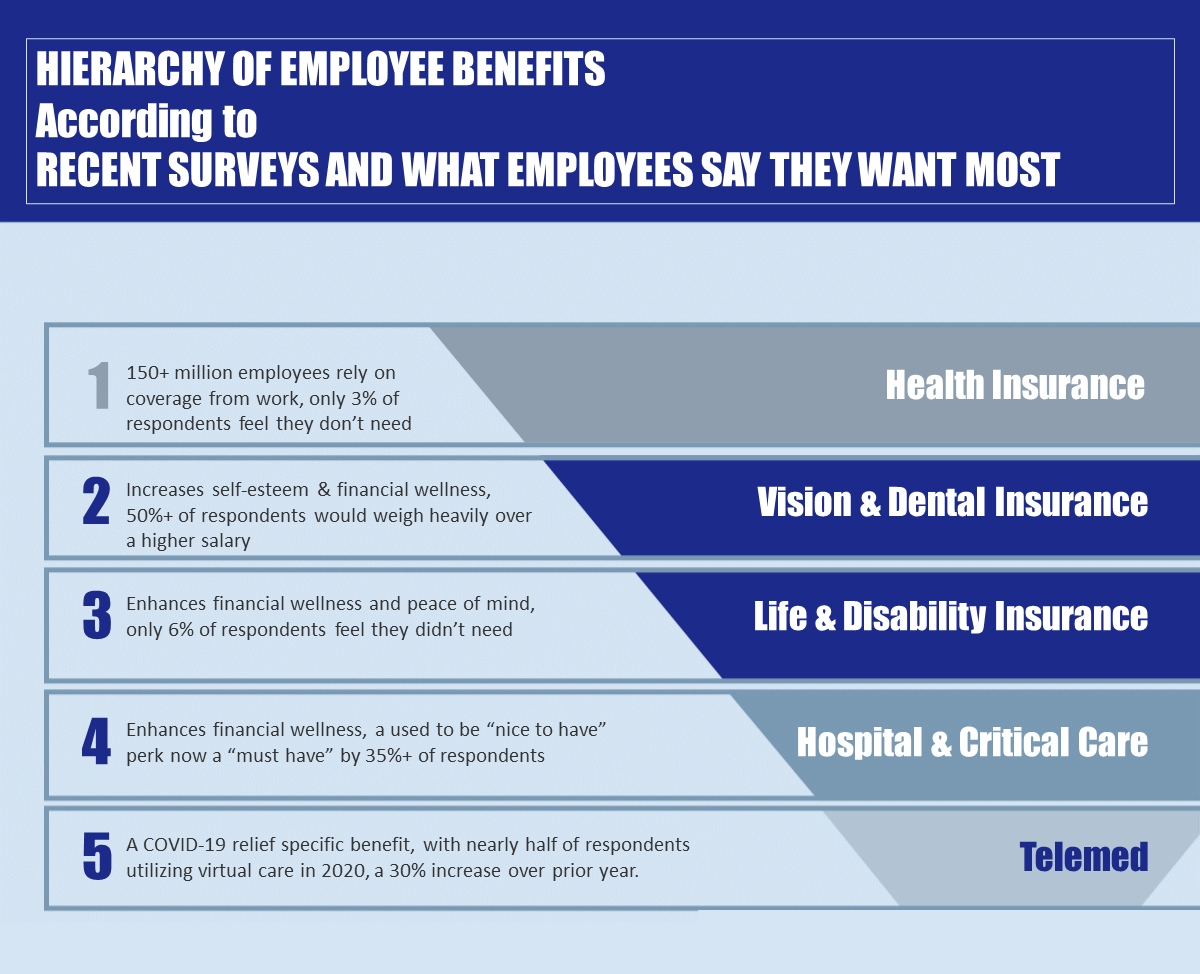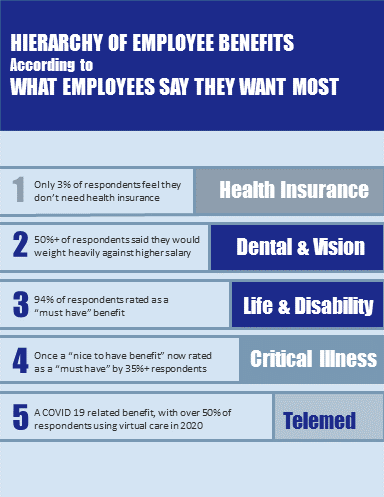 Overview
In general, employees say the pandemic has increased the importance of benefits overall, and over 50% of them would be willing to jump ship for the "right benefits."  Some of these include COVID relief related benefits and perks, such as Telemed and 100% coverage for testing and treatment.  Some employees are even willing to give-up benefits in exchange for a childcare allowance or a 4-day work week.  In fact, nearly 67% of employees who desire childcare benefits indicate their productivity and loyalty would increase significantly in return for such benefits.  
Want to do more and stand out as an employer of choice in 2021?  There are many more benefits that ranked in the surveys reviewed, as well as dozens of other types of perks that employees want in their benefits package.  Please contact us for the full review findings.
Source
Employer Insights Survey 2020, Prudential
Employer Benefit Trends 2020, MetLife
Willis Towers, Benefit News, October 2020